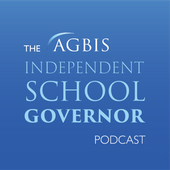 AGBIS Podcast Series - The Independent School Governor
The AGBIS Independent School Governor podcast series is the ultimate guide to governance in independent schools, whether you are already a governor or thinking about becoming one. Each episode features Richard Harman and Cheryl Connelly (AGBIS) in conversation with Carolyn Reed (Reed Brand Communication). They share open, honest and transparent insights into what makes best practice independent school governance.
🎙️ Episode 10 - Plan for the worst and hope for the best with David Woodgate: Part 2
Building on Episode 1, David and Cheryl talk through in more detail the impending challenges for independent schools and have some useful action points for Governors to put into place as soon as possible.
🎙️ Episode 9 - Plan for the worst and hope for the best with David Woodgate: Part 1
David Woodgate, Chief Executive of ISBA and Cheryl Connelly, Director of Training & Membership (Deputy CEO) of AGBIS look at imminent sector threats from political change and how to respond to them.
🎙️ Episode 8 - What makes a good Clerk to the Governors?
The role of Clerk is fundamental to the smooth running of the Governing body. Richard, Cheryl and Carolyn discuss the attributes that the best Clerks possess.
🎙️ Episode 7 - Being the Chair of Governors
This is the episode for anyone thinking of taking on the role of Chair of Governors and we talk about the responsibilities, relationships with the Head and Bursar and how to work as a team with your governing body. Plus of course, the joys of the role!
🎙️ Episode 6 - Understanding and shouldering governors' liabilities
Being a school governor is a privilege and with privilege comes responsibility. Governors are volunteers yet find themselves in positions of authority with associated responsibilities. This episode provides a realistic and balanced overview of the risks and liabilities of the role.
🎙️ Episode 5 - Future proofing the school and guiding change
Like all organisations, independent schools need to adapt with the times and in particular, respond to the increasing challenges they face.
In this episode, we discuss the role of independent school governors in acknowledging that change is required and then guiding their school through that change to ensure it is future-proof.
🎙️ Episode 4 - How to write strategy
One of the key roles of an independent school governor is responsibility for the strategic management of their school, part of which is to ensure clarity of ethos, vision and strategic direction.
In this episode we focus on why it is so important for governors to have a robust strategy in place and how to write an effective strategy.
🎙️ Episode 3 - Recruiting and retaining governors
We look at the process of identifying, sourcing, appointing and inducting Governors; the term of office they serve; and how to keep Governors updated and motivated, so they are compelled to stay on board and find the whole experience interesting and rewarding.
🎙️ Episode 2 - Creating the ideal governing body
We turn our attention to the ideal composition of the governing body and discuss the skill sets needed to govern the school, the importance of getting the balance of personalities right, and how schools can find committed governors.
🎙️ Episode 1 - Where does 'good governance' begin?
In our first episode, Carolyn Reed introduces Richard Harman, Chief Executive of AGBIS, and Cheryl Connelly, Director of Training, who give an outline of AGBIS as an organisation, their roles within it, and what 'good governance' looks like.